Cabaret Examines Themes as Relevant as Ever, Opens April 20 at KU Theatre
---
The University Theatre's season finale opens with a big, inviting party. That's one reason why Act 1 of Cabaret is so adored and a reason the musical's ending hits so hard, said Markus Potter, director and assistant professor in the Department of Theatre & Dance. "It's fun, until it's not."
Cabaret takes audience members to the Kit Kat Club and Fraulein Schneider's boarding house in Germany 1930, with the rise of Nazism as the backdrop. The show compels us to ask "what would you do?" if you were faced with the threat of hate and oppression or if you saw a friend's ignorance and apathy might cost them everything, Potter said.
"Cabaret doesn't show us the horrors of the Holocaust; instead, it shows how hard it was to even imagine those horrors until it was too late to stop them," said professor Henry Bial, whose research centers on the portrayal of Jewish people in theatre and popular culture. Bial will play the role of Herr Schultz, the love interest of Schneider, who will be played by Laura Kirk, associate teaching professor in the Department.
All performances in the run are currently sold out. Shows are April 20-23 and April 25-30 on Stage Too! Crafton-Preyer Theatre at Murphy Hall. Stage Too! is a configuration of the Crafton-Preyer Theatre where both the audience and playing area are on stage. It provides a more intimate setting. The box office encourages patrons to check the Cabaret page Tuesday, April 11 as any ticket availability updates will be announced at that time.
"Cabaret's" highly celebrated musical score gives fuel to choreography by Michelle Heffner Hayes, professor in the Department, who has deviated from Bob Fosse's original work. Musical direction is provided by Ryan McCall, musical director and faculty member in the Department.
Students are working side-by-side with faculty in the areas of performance, design, direction, and stage management. Some of these company members are featured in the production's podcast, Willkommen: A Companion Podcast to The University of Kansas's Cabaret.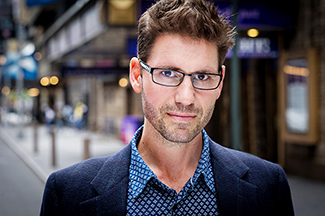 Potter serves as the Artistic Director in the Department where he has recently directed productions of The Christians, Changemakers, and the Kansas Repertory Theatre production of Chasing Gods. Additionally, he serves as the Acting Artistic Director of Center REP theatre in the Bay Area. Potter received an Outer Critics Circle Award nomination and the New York Times Critic's Pick for the off-Broadway production of Stalking the Bogeyman at New World Stages. He is the Founding Artistic Director of NewYorkRep and served as Interim Artistic Director of Theatre Aspen. Other directing projects include Church & State at New World Stages (Off-Broadway Alliance Nominated for best new play), Why You Beasting? (Time Out NY Critics' Pick), associate director for the Donmar Warehouse transfer of Blindness at the Daryl Roth Theatre, Lost Boy Found in Whole Foods at The Portland Stage Company, London's Southwark Playhouse (Off-West End Award nomination for Best Production and Best Direction). As an actor he spent several seasons at The Guthrie, Denver Center, Long Wharf, and the tour of Death of a Salesman with Christopher Lloyd. As a producer, he was on the team that brought the Arena Stage production of Eric Cobble's The Velocity of Autumn to Broadway, starring Estelle Parsons. He received an MFA from Columbia University.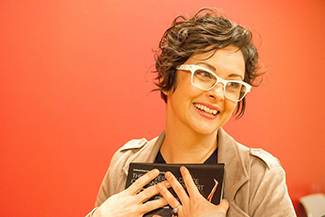 Hayes holds a Ph.D. in Critical Dance Studies from the University of California, Riverside. There, she choreographed solo and group works in both the postmodern and flamenco dance traditions. She also performed with the postmodern dance companies of Susan Rose and Stephanie Gilliland, as well as the flamenco company of Armando Neri. While Executive Director of Cultural Affairs at Miami Dade College, Hayes taught jazz dance and expressive movement for actors in the internationally-recognized bilingual theatre program, Prometeo. She continues her love affair with theatre with choreography for productions like How to Succeed in Business Without Really Trying (2009) and Spring Awakening (2018), as well as movement coaching for singers and actors. Hayes performed as a flamenco choreographer and soloist at the Kennedy Center in Washington, D.C. in Palos Nuevos: The Jazz Flamenco Project in 2018. In addition to teaching and choreography, she has published books and articles in cultural studies about flamenco, contemporary dance, and improvisation.
The scenic designer is recent KU alumna Leah Mazur, whose participation is made possible by the Ronald A. Willis Visiting Scholar/Artist Fund, set up in honor of the late emeritus professor. Mazur is area head of the BFA in Design & Technology in the Department of Theatre Arts & Dance at UT Arlington. The creative team is rounded out by Cassandra Ludlum, senior theatre design and history of art double major from Topeka, costume designer; Ann Sitzman, faculty member and technical coordinator in the Department, lighting designer; Paul Meier, professional accent/dialect coach, founder of Paul Meier Dialect Services, and emeritus professor of the Department, dialect coach; Paul Laird, professor in the School of Music, as consulting musicologist; Jonah Greene, PhD student in theatre studies from Fayetteville, Ark., dramaturg/associate director; Tiffani Hagan, PhD student in theatre studies from Spartanburg, S.C., intimacy choreographer/assistant director; Tara Leigh Burgat, junior dance major, and Jenna Link, production manager and faculty member in the Department, stage manager.
In addition to Kirk as Fraulein Schneider and Bial as Herr Schultz, the cast consists of Katherine Leverenz, sophomore theatre performance and speech, language, and hearing double major from Houston, Texas, as Sally Bowles; Olly G. Mitchell, sophomore theatre in culture and society major from Maize, as Emcee; Diego Rivera-Rodriguez, senior theatre performance and film and media studies double major from Lawrence, as Clifford Bradshaw; Asher Suski, senior theatre performance and linguistics double major from Ames, Iowa, as Ernst Ludwig; Allison FitzSimmons, sophomore theatre performance and psychology double major from Lincoln, Neb., as Fraulein Kost; Paul Ruf, first-year student in biochemistry from Overland Park, as Bobby/ensemble member; Brody Gable, sophomore music therapy major from Roca, Neb., as Victor/ensemble member; Charles Nordquist, senior theatre performance major from Marion, as Herman/ensemble member; Johnny Dinh Phan, senior dance and chemistry double major from Overland Park, as Hans/ensemble member; Anna Avery, senior strategic communication major from Overland Park, as Lulu/ensemble member; Jordan Nevels, junior theatre performance major from Overland Park, as Rosie/ensemble member; Anna Shelton, sophomore dance major from Hesston, as Texas/ensemble member; Rachel Meyer, senior theatre performance major from Topeka, as Fritzie/customs officer/ensemble member; Olivia Johnson, senior mathematics and dance double major, as Frenchie/ensemble member; Allison Rader, first-year theatre performance major from Shawnee, as Helga/ensemble member (understudy for Emcee); and Myles Hollie, junior theatre performance major from Richmond, Va., as Max/ensemble member. Additional members of the ensemble are ShonMichael Anderson, first-year theatre performance major from Wichita; Lane Barrette, senior theatre performance and political science double major from Basehor; Hannah Gassman (understudy for Fraulein Schneider), junior voice and theatre major from Deerfield, Ill.; Brandon Heflin (understudy for Herr Schultz and Ernst Ludwig), first-year microbiology major from Olathe; Gracie Hernandez, first-year psychology and theatre performance double major from Overland Park; Christie Phillips, junior psychology and dance double major from St. Louis, Mo.; Basia Schendzielos, junior French and Francophone studies major from Shreveport, La.; Madi Seelye, first-year dance and pre-nursing double major from Lawrence; and Maya Welde (understudy for Fraulein Kost), first-year Spanish and theatre performance double major.
In addition, the band will provide accompaniment from on stage. The band consists of McCall, on piano, Robert Vandivier, on trumpet, Brady Gell on trombone, A.J. Bonci on guitar/banjo, Clarke Russell and Clare Hawkins on bass, Julia Reda and Grant Owen, on drums, and Jenny Clink and Wesley Rhodes, on reeds.